The Energy Audit: Your Ship's Health Check
MY SHIP IS RECENTLY BUILT AND THEREFORE EFFICIENT…
An often propagated myth is that, since a ship is recently built, nothing more needs to be done to improve its efficiency. On the contrary, while the majority of newer ships have more controls that allow for greater optimization and automation, their systems do not perform optimally because their settings have never been verified since the ship was put at sea and underwent its sea trials…
At the outset, a ship's centralized control systems are installed in order to improve its energy performance, reduce the wear and tear of the equipment, support its redundancy features, and facilitate decision-making. But, to what extent is this really true? A GHGES Marine Solutions expert you will apprise you on its actual performance and suggest opportunities for improvements.
An incorrectly set PID controller, a sub-optimized control logic, an improperly functioning automated control are often-encountered problems on 'new ships'.
The heat balance must often be reviewed because the actual operating conditions are not necessarily the same as those estimated at the design stage. The heat loads/producers must be rebalanced which, in the majority of cases, reduces GHG production and improves the ship's performance in a meaningful way.
MY SHIP IS OLD, SO IT'S NOT WORTH IT
Older ships often provide unanticipated and very cost-effective opportunities. It frequently happens that projects tied to these ships generate full returns on investment in less than one year.
For example, if your ship consumes the heavy fuel oil at 350$/t, reducing electric power by 10 kW will easily result in a savings of $7,000 in only 6 months. Installing a timer switch at a cost of less than $500 will often be enough to do the trick.
INTERVENTIONS THAT DELIVER QUICK PAYBACKS
Once built, a ship will consume a quantity of fuel proportional to its power and will sail at a speed relative to its hydrodynamic shape.
A ship's 'economic speed' depends on several factors:
Its operation costs;
The contractual obligations that apply to the trip;
Its actual power, speed and fuel consumption.
The first two terms in this equation are normally known by the shipowners.
In the course of its interventions, GHGES Marine Solutions can plot fuel consumption vs actual speed curves for you. Whether all the necessary instruments are on board or not does not impede our ability to calculate and provide you with sufficiently detailed information that will allow you to make the right decisions and enable you to better manage your fleet.
AUXILIARIES: OFTEN OVERLOOKED OPPORTUNITIES
GHGES excels in the evaluation of auxiliary systems and the validation of the operating procedures. Although the fuel consumption linked to the auxiliaries often only represents  between 20% and 25% of a ship's total fuel consumption, it is not rare that it can be reduced to between 15% and 30%. In the end, total fuel consumption can usually be cut by 2% to 7.5%.
Who can afford to leave between $50,000 and $150,000 per year on the table?
For example, if you reduce your power consumption by only 10 kW, you will save 19.8 tons of fuel per year (or $7,000 in HFO or 15,000$ in MDO). This represents 63 tonnes of CO2 equivalent, which entitles you to as much as $60,000 or up to 50% of your project costs in subsidies from ministère des Transport du Québec.
OPERATING PROCEDURES THAT SAVE YOU MONEY
The Ship Energy Efficiency Management Plan (SEEMP) is the result of a recommendation by the International Maritime Organization (IMO). It advocates the establishment of good operating practices to save energy. However, it is often poorly carried out. Several shipowners have implemented the SEEMP without really meeting the recommendation's basic criteria. Basically, the procedures involved are kept in a manual, but few sailors follow them or are even aware of their existence.
A SEEMP must first be specific to each ship. Effective SEEMPs  can rarely be established without taking this aspect into account. In addition, to be expedient, measuring and monitoring methods (data loggers and IMVP procedures) must be put in place in order to ensure that they are applied and well executed.
SEEMPs are very cost-effective procedures when they are well drawn up and impremented. They require little investment and deserve special attention. GHGES develops SEEMPs that meet the IMO criteria and help shipowners operate their ships at peak efficiency. That which must be done and that which must be avoided.
HOW DO WE DO IT
The energy audit requires the boarding of several measuring instruments in addition to qualified staff.
Included among the instruments will be:
Ammeters
Anemometers
Infrared camera (thermal)
Acoustic devices for leak detection
Luxmeter (brightness)
Several data loggers
Gas analyzer
Transmitters/laser detector
Magnetic RTD
And many others
The visit is normally spread over a period of 10 to 15 days.
More than $35,000 worth of equipment and instruments are boarded on the ship, packed in waterproof and shock-resistant cases (Pelican type).


GHGES Marine Solutions can help you cut your GHG emissions, reduce your environmental footprint and enhance your corporate image.
 In addition, we are without doubt the best investment that you can make this year.
The objectives of the energy audit are:
Discover the most economically interesting projects and procedures.
The reduction of the energy and its associated costs.
Calculate the base lines.
Quantify and calculate the GHG emissions.
Develop a realistic estimate of project costs and profitability.
Example of quantification: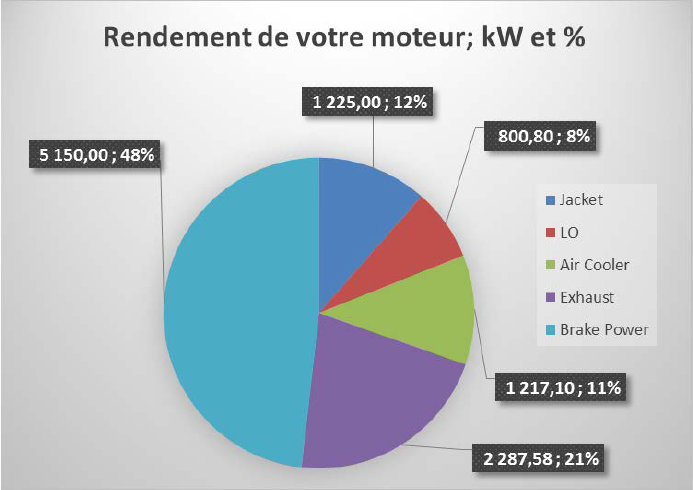 Figure 1: Exemple typique de calcul de rendement de votre moteur principale.
BENEFITS ASSOCIATED TO THE ENERGY AUDIT REPORT
The two main benefits of the energy audit are the increase of your income and the reduction of your environmental footprint. The fuel economies are typically between 2 and 8% by vessel.
The majority of our clients recover the costs of the audit in the first year and the projects typically pay for themselves between 2 to 3 years, and sometimes in less than a year.
The proposed projects are prioritized through an economic study. This study includes the simple pay back calculation (ROI), the net present value of the project (NPV) which is based on the minimum acceptable rate of return for your organization (MARR) and the internal rate of return of the project (IRR). The audit will propose modification and/or the replacement of certain equipment in function of these criteria.
GHGES is an independent supplier and obtains no advantage connected to its recommendations. But our experience and expertise will be valuable in our proposals. In the end, you choose your suppliers according to your internal purchasing criteria.
Normally our proposals are also enhanced by a reduction in the equipment running hours and maintenance costs. Our estimates do not take into account these benefits, limiting themselves mainly to fuel savings. If in the equation, the PETMAF program has a major impact of the project economical benefit.
This audit fits in perfectly with your efforts for the establishment of an energy efficiency program. It will be the basis in order to better target your interventions and increase your profits.
Association of Energy Engineers
Certified Energy Manager (CEM)